Soirée BPM & Workflow
Discover how you can easily develop and maintain web applications with an Open Source BPM solution. Learn how to design applications based on processes with Bonita Open Source BPM and see how to save development and maintenance time. Process design, connectivity with your Information System and web applications generation will be covered in this session. The presentation will end with a description of main features available in the Bonita v5 (Bonita Open Solution).
Rodrigue a profité de l'occasion pour annoncer en avant-première la sortie de Bonita Open Solution 5.
---
Rodrigue Le Gall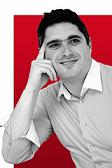 Rodrigue Le Gall, Chief Service Officer and co-founder. Rodrigue is in charge of BonitaSoft Services & Support operations. Services & Support are offered across the globe to BonitaSoft customers and include training, consulting and maintenance support. Prior to BonitaSoft he was head of the Bonita Design and Web development group for Bull, the French Integrator. Rodrigue has also a strong experience as IT Consultant in different major companies such HP. Rodrigue holds a Master degree in Computer Science from ENSIMAG (France).
Informations pratiques
jeudi 15 octobre 2009 à 18h30
Pépinière d'entreprises du Niortais - 3 rue Archimède, 79000 Niort
La soirée s'est suivie d'un buffet offert par SERLI, qui a été l'occasion d'échanges avec nos speakers.